At Building Restoration & Cleaning (Leeds) Ltd, we pride ourselves on the quality of our stone masonry and repairs. Our skilled workers can bring your stonework back to life and restore facades to their former glory, but they would be lost without the various essential tools that they use every day to deliver the top quality stonework that we are known for. So just what are these tools, and how are they used?
Stone Carving Chisel
This tool is among our most vital in our stone carving tool arsenal, the stone carving chisel can be found in many shapes and sizes that help our skilled masons accomplish the top of the line stonework that we are known for. At Building Restoration and Cleaning, we specifically use mallet headed tungsten tip chisels and fire sharpened steel chisel. Whether it be a point, tooth, flat straight, or lettering chisel, this tool when paired with the likes of 50 years of masonry experience will deliver fantastic results.
Mason's Mallet
A Mason's mallet allows us to better use chisels. Alongside mason's mallet suitable for our masonry work, we also use pneumatic mallets which are designed for use with certain types of chisels.
Rubbing Block
A rubbing block is a hand polishing tool that allows us to achieve clean lines and smooth edges when performing stone restoration or stone facade repair. These come in varying roughness allowing us to work on a range of different stone types.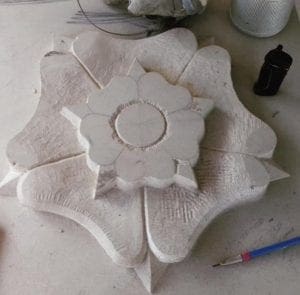 Safety Equipment
At BRC Leeds, safety for our workers and those around us is of paramount importance. An air-fed helmet, protective gloves and goggles help keep our skilled masons protected on the job. All our workers are also accredited with a range of certificates that help them to keep everyone in the vicinity of our work safe.