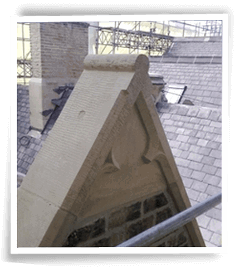 Now known as Woodley School & College, this was a major project we undertook in conjunction with Strategic Team Group and Kirklees Council.
A mild acid was used to clean the surface of the building. The building was fully re-pointed with all joints cut out by hand and re-pointed back with a conservation lime mortar. All the window frame surrounds were re-pointed with a burnt sand mastic. All the coping stones were dismantled and re-fixed with up to 50% of them renewed.
Eroded sections of stonework were cut out and replaced with stone from the original quarry. Replaced items included many window heads, cills, transoms, mullions and quoin stones; including the carved stringcourse sections to the front portico. Other stonework we carried out included reforming the castellated copings to the single storey extension and supplying and fixing the ornately carved coping stones to the boundary wall.
Stone mortar repairs were also carried out to the old plughole. Sections of the chimneys and walls, where movement had occurred, were dismantled and rebuilt back leaving the building restored back to its former glory and ready for use as a school once more for generations to come.